Sonnets: Walking the Great Divide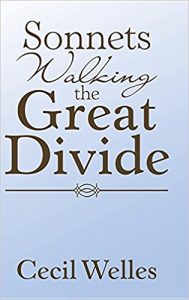 This book is dedicated to my wife, my children, and the soldiers with whom I served.
The author is a California native and Georgia resident who writes sonnets as a source of thought clarification. As a contradiction to poetry, his day job consists of applied mathematics, information management, history, analytics, and military science.
This book represents a sample of the author's thought clarification. Somber, crazy, joyful, or eclectic in subjects, the sonnet format provides a steady bedrock of expression. Some subjects are deep, some barely scratching the surface, some trying to resolve a conundrum, some a passing whim. All start with a single word or phrase with no end-state in mind until the poem is done.
Sonnet
Written by Cecil Welles

Sometimes it is a title, and I ask
Where I am going. At times the end couplet
Erupts, I ask how I got there. Or unmasked
From within, a single remark's midmost, set
Center stage, around which words form a quadrille
Of phrases, idioms, aphorisms
Until the stately dance of thoughts fulfills
One journey expressed in mild euphemism,
Another opined a jagged path
Of misfigured, misconstrued, or misguided
Odysseys, one more bequeathed with heartfelt love.
All intone melodrama of reason, though designed
Without purpose, 'til the final syllable
Of the fourteenth line silences the quill.
 
Unpublished. Copyright 2017.
Reviews:
Pacific Book Review
San Francisco Book Review
Manhattan Book Review
Seattle Book Review
Purchase:
Buy from AuthorHouse
Buy from Barnes & Noble
Buy from Amazon
[Top]